Event: Labour strike, 2016–2017
In conflict with the global port operator, APM Terminals, the Swedish dockworkers union began to strike in April 2016. The dispute only ended in December 2017 (Bergsten H., 2018).
Causes and impact
The strike was the main factor behind the disruption, which was sparked by: (i) a long-lasting political debate on whether the Swedish government should modify the underpinning labour law; (ii) APM's investments on new technology and innovations, which impacted labour requirements in terminal activities; (iii) the lack of sufficient alternative connectivity within the region (besides rail transport); and (iv) the compounding effects of the 2017 cyber-attack on Maersk. (Svanberg M., 2021).
The strike created congestion and disrupted operations. The volumes handled by the container terminal decreased by 20 per cent between 2016 and 2017, and port calls fell significantly, especially calls by large vessels. The port limited the import of containers to dispatch export cargo (figure 41).
Figure 41: Container traffic handled by the Port of Gothenburg, 2010–2021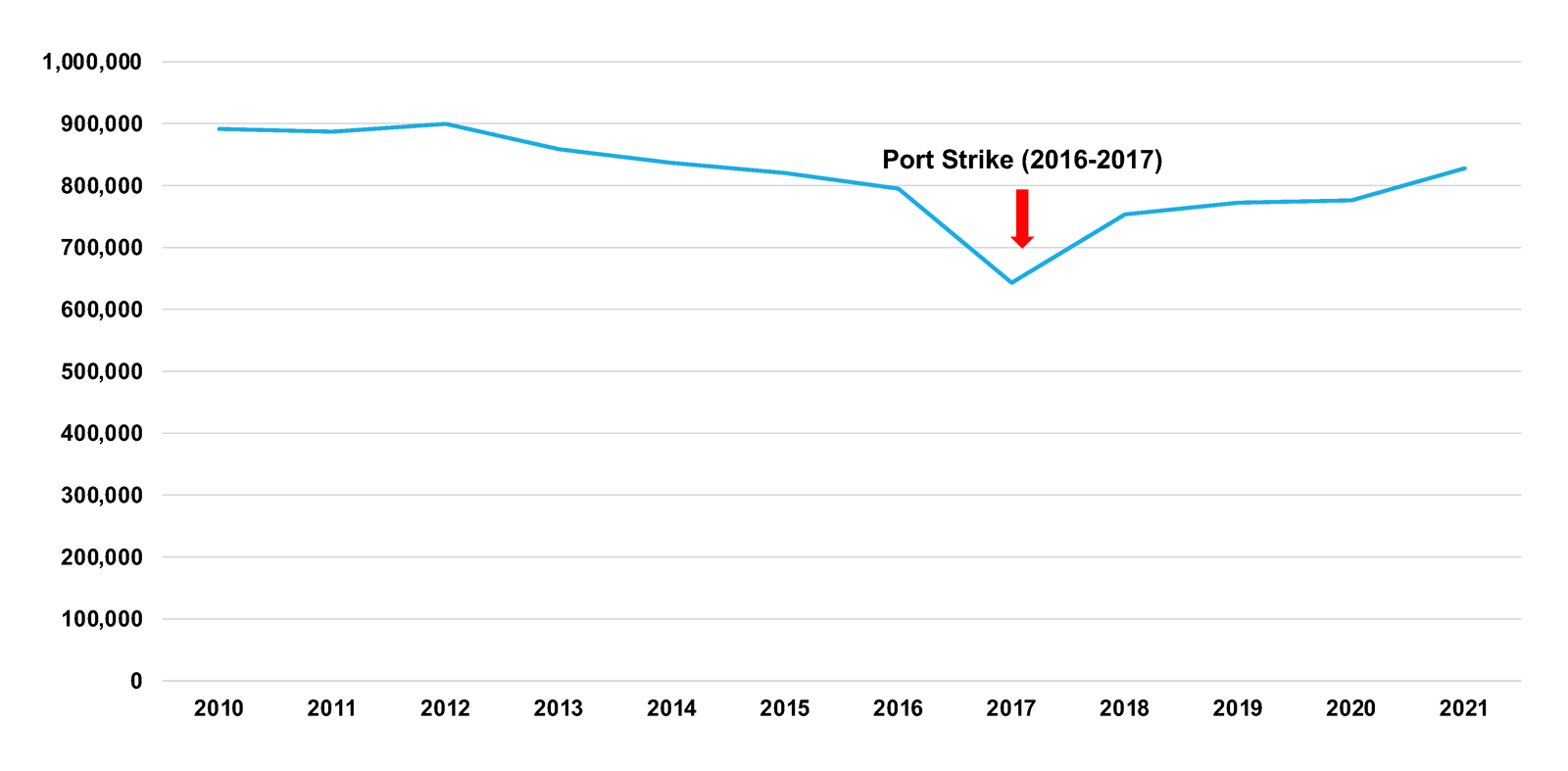 Source: UNCTAD secretariat based on Port of Gothenburg data.
The port experienced reputational damage, with several customers shifting from Gothenburg to rival ports nearby in Sweden or Northern Europe (e.g. Rotterdam, Antwerp and Hamburg), or rail and road transport. Many Swedish firms were affected, with significant consequences on import-dependent sectors, such as the retail industry, which accounts for the largest share of Swedish imports (Lindroth E., 2020). Logistic costs increased across the board after the event (Gonzalez-Aregall M., 2018), social tensions in the wider Swedish labour market heightened, and environmental concerns amplified with greater use of land transport.
Response and mitigation measures
The labour strike reflected a country-wide legal and political conflict. There was limited scope for the port of Gothenburg to take mitigation actions or find ways to end the strike. However, the port took measures to manage cargo flows by prioritizing export cargo, despite the overall negative effect on port throughput.
Lessons learned and good practice
Differentiate a port's value proposition and offer container storage services to mitigate a temporary supply/demand imbalance. For example, learning from the 2017 disruption, the Port of Gothenburg launched the "Empty Container Initiative" in the winter of 2020 to mitigate the effects of the COVID-19 pandemic. The port has also tightened its cooperation with Railport partners to offer container storage of imported goods during the holiday season.
Ensure effective hinterland connections for last-mile transport through rail shuttles and agreement with hinterland transport operators. For example, since the strike, the port pf Gothenburg tightened its connectivity agreements with regional hub and feeder ports and invested in a short-sea terminal in 2021.12
Establish transloading facilities within terminal facilities.